PAPER CRAFTS (Japan's Secret Box)
*Download Free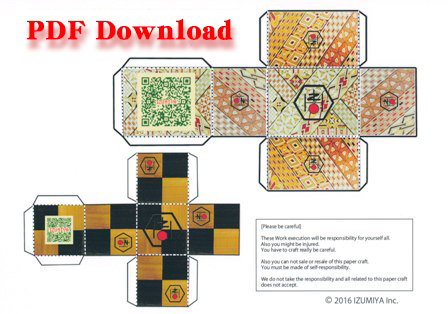 PDF Download
HOW TO MAKE (Japan's Secret Box)
STEP – 1
Please click the PDF Download button.

*Download Free!

STEP – 2
Please PDF file color printing.

*White A4 size thick paper(craft paper) is recommended.
*Please print at the same magnification.
*The printing of equal magnification please refer to the print settings.

STEP – 3
Please cut along the solid line.
STEP – 4
Please fold to back along the dotted line.
STEP – 5
Please adhere the portion overlapping with the trapezoidal portion.
STEP – 6
If beautiful parquet pattern the cube all surface,It was a completed.

This paper craft secret box complete size is about 2 suns.

*(2.44inches,73.932mm)

Please be careful

These work execution will be responsibility for yourself all.




Also you might be injured.




You have to craft really be careful.

Also you can not sale or resale of this paper craft.




You must be made of self-responsibility.

We do not take the responsibility and all related to this paper craft does not accept.